XP Deus X35 Metal Detector with 9 or 11 Inch coil
Regular price
$1,599.00 AUD
Regular price
$1,899.00 AUD
Sale price
$1,599.00 AUD
Unit price
per
XP Deus, The NEXT Step on your Upgrade cycle.
10 In built programs with NERD Level adjustability and toys to play with. It will be a long time before your bored with your Deus!
FREE Mi6 Pinpointer with all XP Deus machines! Save $269!!
Backed by a 5 year warranty and a dedicated team right here in Australia, The XP Deus is becoming well known for a lot more than weighing under a Kilo.
STILL the fastest
STILL the lightest
STILL the only TRUE wireless metal detector
5 year warranty 
Fully repairable
State of the art technology
Backed by a dedicated Australian distruibutor of 6 years.
X35 coil features:
35 frequencies 5 main frequencies with 7 wide offsets 3.7-4.4kHz, 7.1-8.4kHz, 10.5-12.4kHz, 15.2-17.8kHz and 23.5-27.7kHz

Selectable frequency offset without loss of performance.

TX power adjustment is available on all frequencies and offsets

Special Low frequency TX Boost feature:

Normal or Boost option The transmitted power has 2 selectable levels when using frequencies 3.7Khz to 4.4kHz.

The BOOST mode significantly increases the transmission power of the transmitting coil, allowing greater detection levels if the soil conditions allow.

TX boost is a special mode, the battery life of the coil may be reduced down to 6 hours.

The overall battery life of the x35 coil has improved on most frequencies by +10% to +40%

High frequencies 23- 27.7kHz Excellent sensitivity to low conductive targets and small targets.

Better overall stability

The X35 coils are available in 22cm (9 inch), 28cm (11 inch) and 34 / 28cm (13 x11 inch) and will work with the DEUS in version 5.
If you are NOT sure which coil to start with then read this Article, (Opens in a new window). It will explain the Coils and what each one is capable of.
Once you have chosen your preferred Coil then its Just a matter of whether or not you would like to add the wireless Headphones WS4 or WS5 to your Kit.
It won't affect the pricing no matter what coil/headphone combination you choose.
Wireless headphones are Optional, but remember the WS4 and WS5 are also control units for the XP Deus Metal detector. You can run your coil on the headphones alone!
The Biggest advantage of having wireless WS4 or WS5 headphones is that with a second coil you effectively have 2 FULL BLOWN XP Deus machines that can be run separately!
Simply Run coil 1 on the Remote unit and Run coil 2 on the WS4 or WS5. Absolutely awesome if the other half, the kids or a random drop in want to come detecting too. You can give them a full power XP Deus without compromising your gear and day.
This is great if you have a white and black coil as quite often one coil will pick up targets the other missed.
The choice of WS4 or WS5 is purely personal Choice as both offer different levels of comfort.
The WS4 is a BACKPHONE and wraps around the back of your head. This allows you to wear a full brim hat which is handy in the Australian Sun. They do let in a little ambient noise but that can be helpful so you can hear what is going on around you.
Remember too that the WS4 can:
Be Worn in a wrist band
Be Mounted to the stem
Have Wired headphones added with the adapter
Be very Versatile as its so small.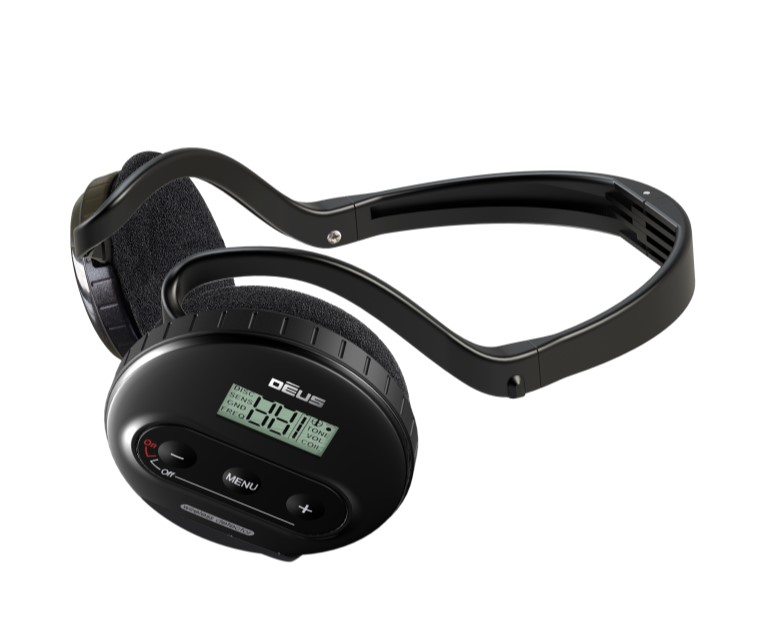 The WS5 is a traditional headphone design and is very comfortable to wear for long periods. It has noise cancelling so you don't hear much other than your machine. Great for the purest to eek out those tiny peeps that can sometimes be very deep treasure. It is also a full control unit and can run your XP deus Independently of the remote.
As I said the style is completely up to you. Both have the same control abilities and features.
XP Deus Metal Detector Information DOWNLOADS
Download the XP Deus Manual For Version 5.21
Preview the settings and get an in depth look at the XP Deus.
Click to View and Save
Download the XP Deus Brochure that contains all the Technical specifications and details.
Click to View and Save.
General XP Deus Information and specifications.
Deus is innovative in terms of metal detector design as it offers an architecture based on three elements communicating via a digital radio link. In this new design the coil, remote control and audio headphones have each been made independent through the integration of very compact, high-capacity lithium batteries.


An ultra-miniature electronic circuit, incorporated in the search coil, digitises and analyses the signals. Data is then sent to the headphones and remote control in real time via a digital radio link. With this method, the signal is processed at source (at the coil) and not conveyed via a wire link, which greatly improves data quality.

Incorporating components from leading-edge technologies such as scientific instrumentation has enabled us to produce a powerful, rapid, lightweight, compact and fully controllable digital metal detector.

Whether you are an experienced user or a beginner, Deus lets you decide whether or not to modify any of its settings. Powerful pre-configured factory programmes enable all users to get started immediately, while expert detectorists can choose more advanced parameters via the intuitive interface.


What is described as the "Remote Control" is in fact the user interface, known as the control box on conventional detectors. It enables the detectors many functions to be precisely adjusted via a graphical interface.

It can also receive program updates (via internet) through its USB socket. Deus is also exceptional in being able to function without the remote control, with just the coil and the wireless headphones, for an even more compact, lightweight configuration (just 875 g).

Like the remote control, the headphones contain all the components needed for detection, they are a genuine control unit in themselves, but on an ultra-miniature scale. They take over in the absence of the remote control for adjusting the detector settings.

With ONLY the headphones you can turn Deus on and off, change the main detection settings such as sensitivity, discrimination, ground balance, tone, frequency (4 kHz, 8 kHz, 12 kHz, 18 kHz, 27Khz),volume, etc. as well as selecting the factory programs or those previously configured with the remote control.


Performance is identical whether you are searching with or without the remote control. Lastly, the new patented XP stem has the combined advantages of an S-shaped stem and a
straight telescopic stem.

It enables you to deploy or fold away the device in just a few seconds, and to change the coil in an instant.

Its user-friendly design ensures comfort and convenience for the user: length adjustable by millimetre increments, improved operating angle and shaped rubber handle for a firm, controlled
grip.
In-Built Settings ready to go:
35frequencies (4kHz ; 8kHz ; 12kHz ; 18kHz, 27Khz) + 7 shift plus/minus

Additional Frequencies Available via the Optional High frequency Coils.
(14kHz, 30kHz, 55kHz, 81kHz) akso 7 Shifts per frequency
Power and Recovery adjustable, Deus has 6 Speeds, you choose the speed that suits the site the best.


NEW BOOST Mode in 4khz for super deep large target hunting.

Audio Response, Iron level, Multi tone, Notch, Discrimination etc

Many advanced functions (Expert)

Ground balance: Tracking, Pumping, Manual, Beach

Motion and 4 non-motion modes

Extended discrimination range, with even greater precision for iron

Pre-configured factory programs (10 Switch on and go programs) and memory of personal programs

Specifications
Wireless digital link, multichannel automatic (36 channels)

Ultra light detector: 987g Full - 887g without wireless control box (hip-mountable).

Remote Control pocket sized (hip mount case provided), held by clip support, graphic display with low power consumption backlight and intuitive screen.

9" Carbon fibre impregnated 2D coil, both light and waterproof including coil cover Or Upgrade to the 11 Inch coil.

Wireless Backphone, rain proof, light and foldable (Backphone removable), with its own operation controls and screen, with transport case

USB standard protocol to recharge and download new software/update (via XP website)

Lithium battery, very compact (9g).

Battery life Coil: max 20h (depending on power and frequency)

Battery life Remote Control and Backphone: 27 hours

Fast and intelligent charger, Charge simultaneously all 3 elements (Remote control, Coil & Backphones in 2 hours)

Optional: Larger coil 34cm/28cm (13"X11") DD - Mini emergency charger - Car charger.

Wireless headphones Specifications
Wireless backphone with its own operation controls and screen

Light and foldable (backphone removable to replace it easily)

Can control the detector alone

Can adjust all the main detection settings:

Sensitivity, Discrimination, Ground balance, Frequency (4, 8, 12, 18kHz), Multi-Tones, Volume etc...

Factory programmes

Lithium battery and charger provided

Warranty
Waranty 5 years.
 If you have any further questions please get in touch using the contact Us Link at the top of the page or call Clegy on the phone number Top Right.
XP Deus Metal Detector
STILL The fastest
STILL The Lightest
STILL The only TRUE Wireless Metal Detector
Cheers and Happy Hunting
Clegy
Share