Vanquish 540
Regular price
$599.00 AUD
Regular price
$629.00 AUD
Sale price
$599.00 AUD
Unit price
per
VANQUISH SERIES
Minelab's new VANQUISH offers uncompromising performance — and it won't break the bank. Simple yet powerful, it's perfect for anyone starting out or stepping up their detecting game. With ground-breaking Multi-IQ technology, multiple Find Modes, lightweight collapsible design, and much more, this is the detector you've been waiting for.                                                         
THE MULTI-IQ ADVANTAGE
Why Multi-IQ? Because with Minelab's revolutionary Multi-IQ technology, you've got the combined power of multiple detectors in one — all working for you at the same time. Simply turn on and go. Nothing goes undiscovered and no terrain is off limits. Silver, gold or jewellery. Park, field or beach. Unearth the power of VANQUISH with Multi-IQ. All metals. All soils. All the time.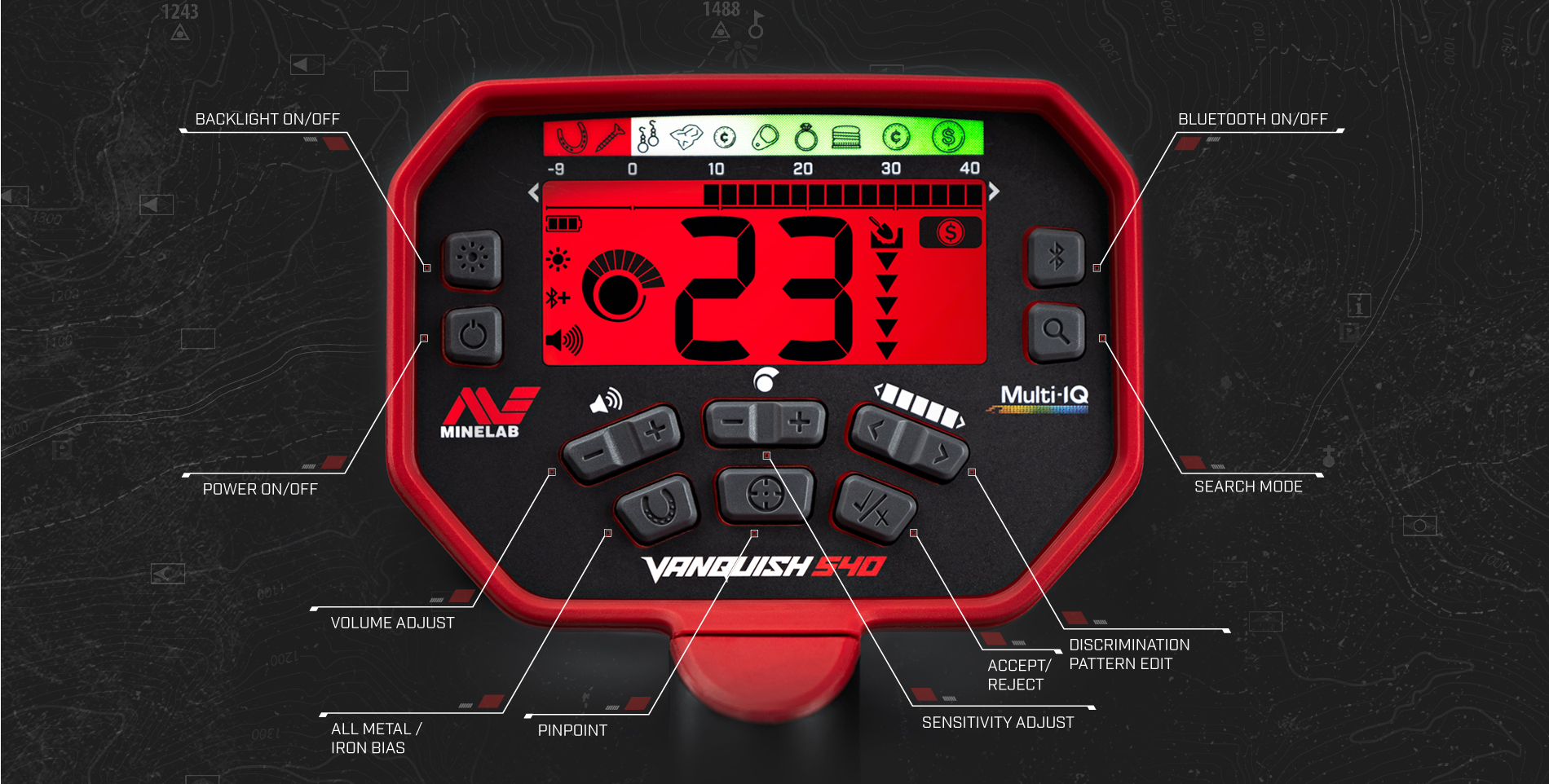 SEARCH MODES

Coin, Jewellery, All Metal

Coin, Relic, Jewellery, Custom

Coin, Relic, Jewellery, Custom

Coin, Relic, Jewellery, Custom

NOISE CANCEL

Auto (19) Channels

Auto (19) Channels

Auto (19) Channels

Auto (19) Channels

BLUETOOTH AUDIO

No

No

Yes

Yes

IRON BIAS

High

High

High (Default), Low

High (Default), Low

SENSITIVITY

4 levels

10 levels

10 levels

10 levels

VOLUME

3 levels

10 levels

10 levels

10 levels

TARGET TONES

3 tones (Low, Mid, High)

3 tones (Low, Mid, High)

5 tones

5 tones

DISCRIMINATION
SEGMENTS

5 segments

12 segments

25 segments

25 segments

TARGET ID'S

-9 to 40

-9 to 40

-9 to 40

-9 to 40

DEPTH INDICATOR

4 levels

5 levels

5 levels

5 levels

LENGTH

Extended: 145 cm (57 in.)
Collapsed: 76 cm (30 in.)
Extended: 145 cm (57 in.)
​Collapsed: 76 cm (30 in.)
Extended: 145 cm (57 in.)
​Collapsed: 76 cm (30 in.)
Extended: 145 cm (57 in.)
​Collapsed: 76 cm (30 in.)

WEIGHT




(INCL. BATTERIES)

1.2 kg (2.6 lbs)

1.2 kg (2.6 lbs)

1.3 kg (2.8lbs)

1.3 kg (2.8 lbs)

STANDARD COIL

V10 10" x 7" Double-D

V10 10" x 7" Double-D

V12 12" x 9" Double-D

V12 12" x 9" Double-D
V8 8" x 5" Double-D

DISPLAY

Monochrome LCD

Monochrome LCD

Monochrome LCD
with red backlight
Monochrome LCD
with red backlight

SUPPLIED BATTERIES

4 x AA Alkaline replaceable

4 x AA Alkaline replaceable

4 x AA NiMH rechargeable

4 x AA NiMH rechargeable

WATERPROOF

Coil to 1 m (3 ft)

Coil to 1 m (3 ft)

Coil to 1 m (3 ft)

Coil to 1 m (3 ft)

KEY TECHNOLOGY

Multi-IQ®

Multi-IQ®

Multi-IQ®, Bluetooth, aptX™ Low Latency

Multi-IQ®, Bluetooth, aptX™ Low Latency

WARRANTY

3 years control box and coil

3 years control box and coil

3 years control box and coil

3 years control box and coil
Compare       Vanquish 340       Vanquish 440       Vanquish 540 ProPack


Share